IT'S BEEN A LONG TIME SINCE
8/11/2010
Alguien me dijo una vez que se haría un blog en verano. No se lo recomende. Sin duda es la época más dificil no solo para empezar, sino también para seguir. Me he disculpado muchas veces pero es que cuando los rayos de sol atraviesan la ventana, a una le cuesta no salir de casa, y mucho. Pero hoy me dije, Belén saca tiempo saca tiempo, se lo merecen, se merecen una actualización para dar las gracias, gracias por estar ahí durante ya dos años! Si señoras y señores, hoy Urban and Trendy se hace un año más mayor! La ilusión que nació hace 24 meses sigue estando viva, y creciendo a la par que el blog. Sigo disfrutando con cada post, con cada comentario, con cada email... GRACIAS!
Y para celebrarlo, se que quizás no es nada maravilloso pero se me ha ocurrido sortear una camiseta estampada por mi. Como alguna vez he mencionado customizo mis propias camisetas y ahora quiero compartirlo con vosotras. Así que si quereis haceros con ella, aquí teneis como: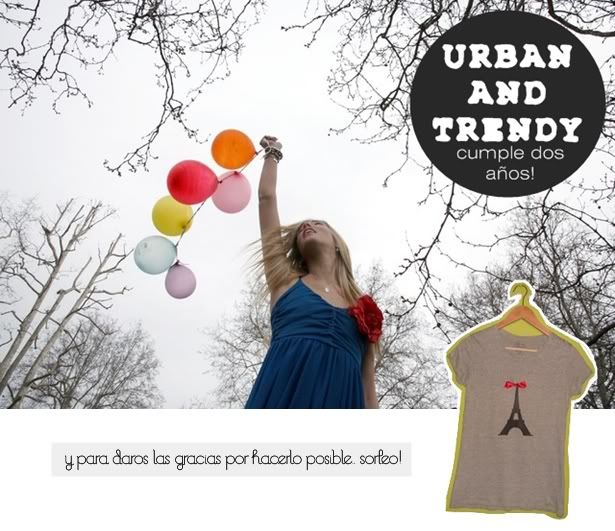 CÓMO PARTICIPAR:
1. El sorteo se limita al territorio peninsular español.
2. Hacerse seguidor de Urban and Trendy.
3. Deja un comentario en esta entrada donde se incluya un
email
de contacto. (Sin email, el comentario no será válido)
CÓMO SE ELIGIRA AL GANADOR:
A cada comentario se le asignará un número (el primero será "1", el segundo "2", etc). Utilizaré la web 'Sortea2' para elegir al númeor ganador. Es sencillo, incluire en una lista a todos los participantes y la propia web seleccionará un número totalmente aleatorio. Teneis hasta el próximo sábado 21 para participar! Suerte!